Scientists at Nanoprobes, Inc. are heralding a major breakthrough in cancer research, using their new magnetic nanoparticles. After a quick i.v. injection and just three minutes inside a magnetic field, 80% of test animals are completely cured of cancer. Their spectacular results have just been published in The International Journal of Nanomedicine.
Six years of research were built on a simple idea:

iron particles inside an alternating magnetic field will spin back and forth, and generate significant heat. If enough iron particles were delivered to a tumor, you could cook the cancer. For many years, however, researchers had been stymied by the toxic amount of iron required. To avoid poisoning the body, researchers had tried injecting iron particles directly into tumors, but areas missed would always regrow.

Iron particles inside a tumor spin in an alternating magnetic field, generating enough heat to cook the cancer.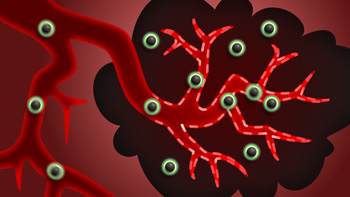 Leaky new blood vessels in cancers allow magnetic nanoparticles to accumulate in tumors, but stay out of healthy tissue.

At Nanoprobes, a different approach held the key. Senior scientist Dr. James F. Hainfeld, one of the original fathers of the nanoparticle, decided to make the iron itself non-toxic. Together with colleague Hui Huang, he engineered a nanoparticle with an iron core and a biocompatible shell, which could safely be injected into the bloodstream. Sized to specifically leak out of newly-formed blood vessels in tumors, these iron nanoparticles will find and load cancerous tissue anywhere in the body, even targeting metastases.

The iron-laden tumors are then easily heated in a magnetic field; they actually liquefy, while adjacent, healthy tissue stays cool and unharmed. Afterwards, the neutralized liquid is quickly absorbed by the body, while the nanoparticles break down slowly, allowing the iron to be safely assimilated. The research team has achieved a cure rate of 78-90% in mice, ablating tumors with an accuracy finer than a surgeon's knife.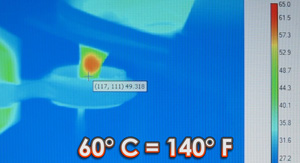 An infrared camera shows iron particles heating a tumor to liquefication, while adjacent healthy tissue stays cool and unharmed.
It's also great news for combination therapy, where pre-treatment with heat, or hyperthermia, greatly amplifies chemotherapy and radiation. Since magnetic fields easily pass through the human body, these iron nanoparticles will heat even deep tumors, which were previously inaccessible. Brain cancer too is in their sights; where usually nothing works, the lab's preliminary studies show the precision of magnetic heating eradicating tumors, while vitally sparing healthy brain tissue alongside.
The National Institutes of Health recently granted the research group roughly a million dollars' worth of laboratory testing, in preparation for FDA approval. "We need to bring this to patients, as soon as possible," says Huang, now in medical school and soon to be treating patients himself. They are currently organizing funding for the clinical trials to come.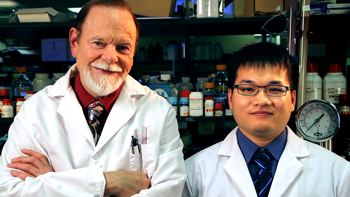 Dr. James F. Hainfeld (L) and Hui Huang in the Nanoprobes lab.
"After so many years in the trenches, I tend to be cautious," says Dr. Hainfeld, "but I've never seen such promising results. We're very hopeful." Because, he adds, "No one should ever have to hear, "There's nothing more we can do."
Contact: Dr. James F. Hainfeld, PhD
Email: hainfeld [at] nanoprobes.com
Nanoprobes, Inc. is a nanoparticle research collaborative, dedicated to finding cures for cancer and other diseases. Our technology is helping save lives around the world, as the core of the HER2 breast cancer test. Located in Yaphank, NY, our funding comes from research grants, and sales of nanoparticle products to the scientific community; all profits support our research.
Read the scientific paper online, available free (open access):
Intravenous magnetic nanoparticle cancer hyperthermia
Huang HS, Hainfeld JF. International Journal of Nanomedicine. 2013:8, 2521-2532.
---
Nanoprobes is looking for funding partners as we prepare for the FDA approval process.
Please let us know if you would like to join this very important project.
Please understand that this treatment is currently being tested in animals, but there are no clinical trials available at this time.
Learn more about the future of clinical trials with magnetic nanotherapy, and where to find help in the meantime.
Quick Links