Steven Hui Huang - Research Associate
---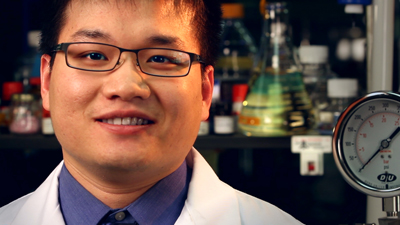 Steven Hui Huang began work at Nanoprobes in 2007, as a student volunteer.
Huang's great potential was immediately noticed by Nanoprobes founder and chief research scientist Dr. James F. Hainfeld; so began many years of intense apprenticeship in nanoparticle synthesis and the tenacious, out-of-the-box thinking that research requires.
Together, Dr. Hainfeld and Huang engineered a non-toxic iron nanoparticle that can cure cancer with magnetic heating. In their years of research, Huang himself cracked the critical biocompatibility problem. Their results were published July 2013 in The International Journal of Nanomedicine.
Now in medical school and soon to be treating patients of his own, Huang still finds time to help in the Nanoprobes laboratory.
To learn the in-depth story behind their research, please see
Curing Cancer with Magnetic Nanoparticles.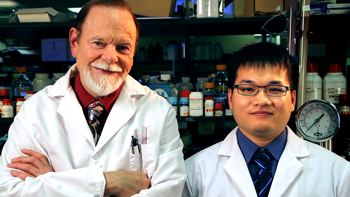 "Working at Nanoprobes has been the best learning experience I have had so far."
E-mail Steve: shuang [at] nanoprobes.com
Publications:
Intravenous magnetic nanoparticle cancer hyperthermia
Huang HS, Hainfeld JF. International Journal of Nanomedicine. 2013:8, 2521-2532.
Magnetic nanoparticles created at Nanoprobes are being used to treat cancer with an 80%+ cure rate in mice, using hyperthermia (magnetic heating or heat therapy). Learn how it works from Dr. James F Hainfeld and Hui Huang, two scientists at our Nanoparticle Research Collaborative.