You may have noticed the reference to gold enhancement in the article on Nanogold® for Electron Tomography. Gold enhancement is a method for selectively enlarging gold nanoparticles, in order to render them visible either for direct observation by electron microscopy, or reveal their distribution and staining pattern by light microscopy or optical observation.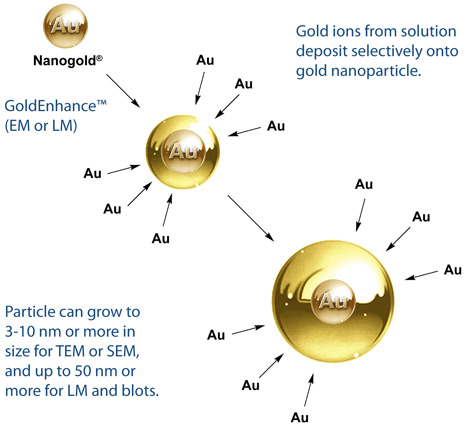 Gold enhancement works just like silver enhancement – but because it deposits gold instead of silver, it has several important advantages:
---
Meagher, C. K.; Liu, H.; Moore, C. P., and Phillips, T. E.: Conjunctival M cells selectively bind and translocate Maackia amurensis leukoagglutinin. Exp. Eye Res., 80, 545-553 (2005).
He, W.; Kivork, C.; Machinani, S.; Morphew, M. K.; Gail, A. M.; Tesar, D. B.; Tiangco, N. E.; McIntosh, J. R.; and Bjorkman, P. J.: A freeze substitution fixation-based gold enlarging technique for EM studies of endocytosed Nanogold-labeled molecules. J. Struct. Biol., 160, 103-113 (2007).
---
Also in this issue: