Future Ideas, Research and Suggestions
---










In this section:

Improvements
New Functionalities
Combined Fluorescent and Gold Probes
Larger Clusters Because of the variety of synthetic ligands which are available, it is relatively easy to use different combinations of synthetic ligands to impart new physical or chemical properties or reactivity to Nanogold® and other cluster compounds, such as improved water-solubility, inertness towards proteins, positive or negative charges or specific hydrophobicity.
For example, we are now developing undecagold and tetrairidium compounds as Derivatizing agents for membrane protein crystallography. We are also developing a new, more soluble form of Nanogold with reduced hydrophobicity for even lower background signal and greater biocompatibility.

The variety of functionalized ligands which may be synthesized allows for the incorporation of many new functionalities for different types of targeting. Biotin-Nanogold® has been prepared, and we are now developing a conjugate with nitrilotriacetic acid-Nickel (II) which specifically targets polyhistidine residues: this provides a handy, smaller size probe with even greater penetration and higher resolution than our antibody conjugates, and the rapid development of protein engineering (which may be used to introduce polyhistidine tags into any protein of interest) suggests that thismaybecome an important method for localizing components of cells and tissues.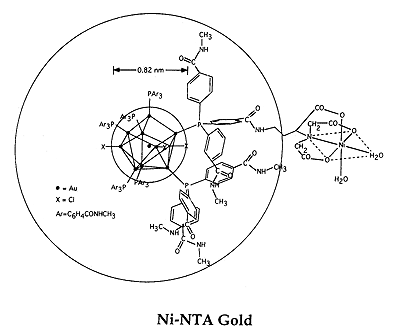 The covalent chemistry available with gold clusters permits their incorporation into complex probes in which more than one reporting component may be included, and the relative positions and attachments of both controlled by the type of chemistry used to prepare them. Currently, we are investigating different types of combined fluorescent and gold probes, some with the fluorophore attached to the gold cluster via a coordinated ligand (type A), and some with the gold cluster and the fluorophore separately conjugated to an antibody or antibody fragment, as shown below: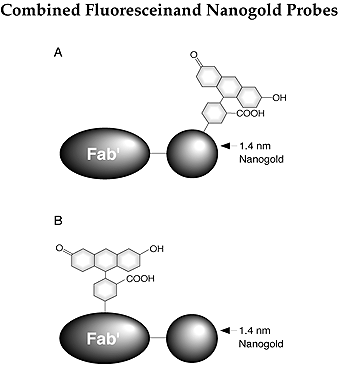 The results obtained using a combined fluorescein and Nanogold® probe prepared by the second approach are shown below, used as a secondary antibody against a monoclonal primary used to localize microtubules in human monocytes:
FluoroNanogold staining of Microtubules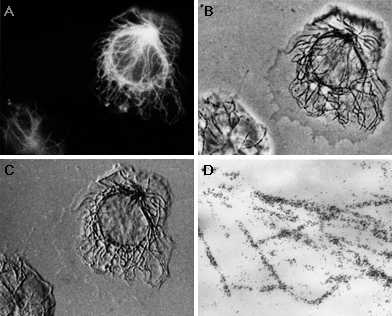 Immunolocalization of microtubules with FluoroNanogold-Fab' in the same human monocyte visualized by various microscopies: (A) Fluorescence; (B) Phase; (C) DIC, and (D) Electron Microscopy (with silver enhancement). (Micrographs courtesey of Dr. J. M. Robinson and Dr. D. Vandré, Ohio State University. For complete detals, see J. Histochem. Cytochem., 45, 631 (1997).
References:
Powell, R. D.; Halsey, Carol M. R.; Spector, D. L.; Kaurin, S. L.; McCann, J., and Hainfeld, J. F.: A covalent fluorescent-gold immunoprobe: "simultaneous" detection of a pre-mRNA splicing factor by light and electron microscopy. J. Histochem. Cytochem., 45, 947-956 (1997).

See the abstract from JHC Online.

Robinson, J. M., and Vandré, D. D. Efficient immunocytochemical labeling of leukocyte microtubules with FluoroNanogold: An important tool for correlative microscopy. J. Histochem. Cytochem., 45, 631-642 (1997)

See the abstract from JHC Online.

Powell, R. D.; Hainfeld, J. F.; Halsey, C. M. R.; Spector, D. L.; Kaurin, S.; McCann, J.; Craig, R.; Fay, F. S., and McNamara, K. E.: Large cluster and combined fluorescent and gold immunoprobes. In Proc 54th Ann. Mtg. Micros. Soc. Amer., G. W. Bailey, J. M. Corbett, R. V. W. Dimlich, J. R. Michael and N. J., Zaluzec (Eds.). San Francisco Press, San Francisco, CA, pp. 892-893 (1996).

See the complete paper (new window).

Powell, R.D., Hainfeld, J.F., Churchill, M.E.A., and Belmont, A.S.I. Combined fluorescent and gold nucleic acid probes. In G. Bailey and A.J. Garratt-Reed (Eds.). Proc 52nd Ann. Mtg. Micros. Soc. Amer., San Francisco Press, pp.176-177 (1994).

See the complete paper (new window).
Top of page We are working towards making larger, chemically functionalized clusters and nanoparticles whichmay be cross-linked in the same manner as Nanogold® and undecagold, or synthetically tailored for desirable properties. Look for announcements!
Suggestions?
Let us know if you think there is something else we should be making. E-mail us at

[email protected]

and tell us.
---